Stockholm, Sweden: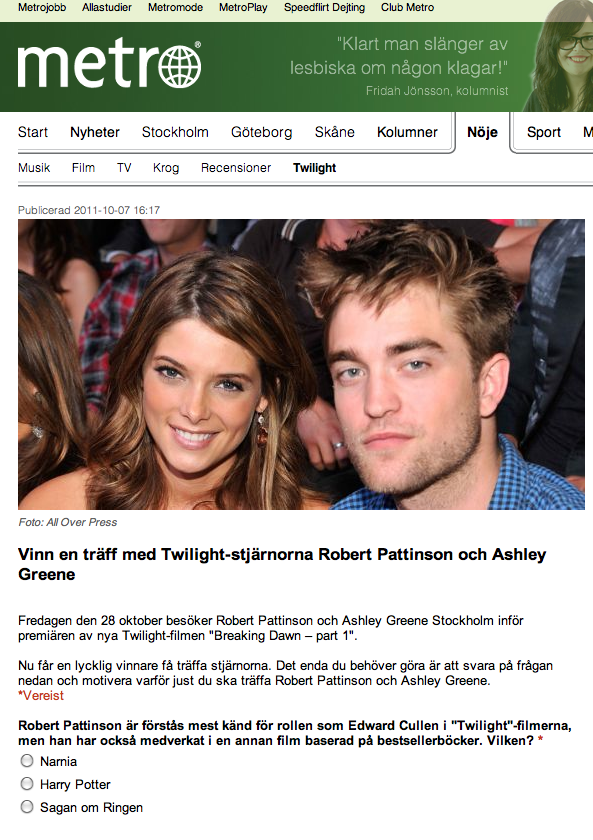 Via Google:
Win a date with Twilight stars Robert Pattinson and Ashley Greene
Friday, 28 October visit Robert Pattinson and Ashley Greene Stockholm before the premiere of the new Twilight movie "Breaking Dawn - part 1″.
Now, one lucky winner to meet the stars. All you have to do is answer the question below and give reasons why you should meet with Robert Pattinson and Ashley Greene.
The last day of competition is October 19
Robert Pattinson is of course best known for his role as Edward Cullen in "Twilight" films, but he has also appeared in another film based on bestselling books. Which of these?
A. Narnia
B. Harry Potter
C. Lord of the Rings
Paris, France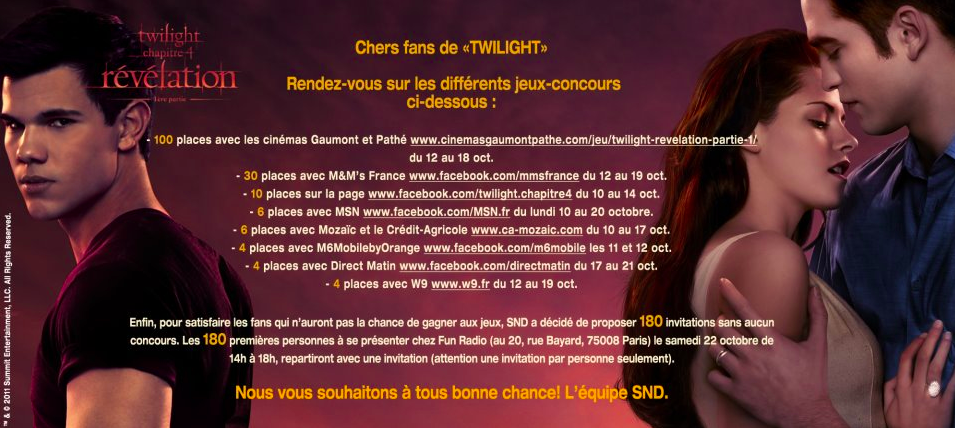 Via Google:
Yesterday we were on Friday and as promised, SND has given us more information on FANEVENT of 23 October in Paris! We now know how to win tickets to this event with Robert Pattinson and Ashley Greene! And on top of that, SND has announced a good news for fans present! And besides being able to ask questions to players, fans present will have the privilege of discovering novel 10 minutes of film! When the competition will be available, they will be posted on the site
Dear fans of "Twilight," as promised, here are the details of the contests to earn your place in the exceptional meeting with Robert Pattinson and Ashley Greene. This meeting will be held Sunday, October 23 from 18h to 19h at the Gaumont Opera Capucines. Both players will spend 40 minutes to answer your questions. At the end of these questions and answers, SND and Summit you have booked a nice surprise: 10 minutes of unseen footage of the film! Good luck to all

Brussels, Belgium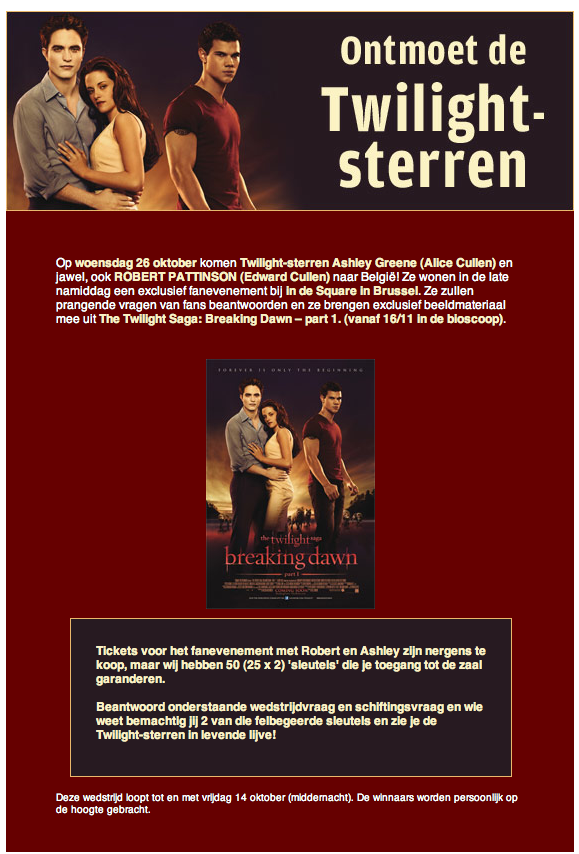 Via Google:
They will show exclusive material from the movie Breaking Dawn Part One.
There are NO tickets available for sale: you can only win them via contests in the Belgian media. There will also be some contests in the Dutch media.
There will be a red carpet, so fans will still have an opportunity to see them if they don't win tickets. The event will be held at the "Square", Ravensteinstraat 2, 1000 Brussel – Belgium
There are 800 tickets available and 20 of them will be available via
Q-music
Other contests will be held by
JOEPIE
and
JIM TV
.
You can win tickets now via
Nieuwsblad.be
. They have 50 tickets (25 sets of 2 tickets) available and the contest runs until midnight, October 14th! You do need to register to be able to enter the contest.
Additional ticket info
here
(in Dutch)